Rock Ripper Header Kit w/ Studs, Nuts & Remflex Gasket 22RE 85-95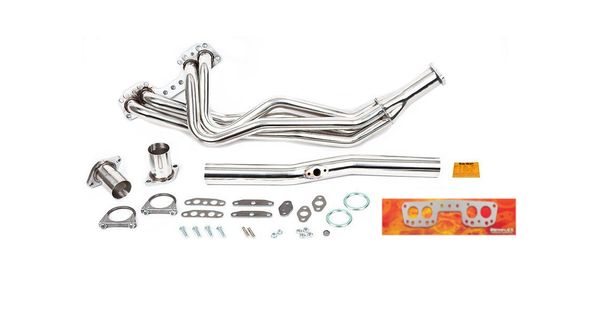 Rock Ripper Header Kit w/ Studs, Nuts & Remflex Gasket 22RE 85-95
Yota1's Kit includes Trail Gear's Rock Ripper Header kit, Remflex Exhaust Gasket #7003 (this is the only one we use) and 9 OEM Exhaust Studs & 9 Nuts for Toyota 22RE

This Header kit includes a stainless steel, 50 state legal Toyota header. It features 100% polished stainless steel 1/16" thick tubes going into a 1/2" thick header to head mounting flange. The Rock Ripper™ Toy Header is not only made out of the thickest material on the market, but since it is stainless it will not rust or corrode and does not need to be ceramic coated or wrapped. The Rock Ripper™ Toy Header is plug and play, and all gaskets, connectors, and pipes are included along with full color instructions.
THIS HEADER IS CARB LEGAL 
4X4 ONLY! WILL NOT WORK ON 2 WHEEL DRIVE TRUCKS OR CELICA
85-88 WILL NEED TO RELOCATE THE O2 SENSOR DOWN NEAR THE CAT. (Wire and connectors included)
1981-1995 Toyota Pickup and 4Runner, 22R/22RE, 4WD, 50 State Legal
We carry the replacement gaskets for this header, to view,
click here.
Reviews