High performance Yukon Ring & Pinion Gear Set Toyota 7.5" Reverse rotation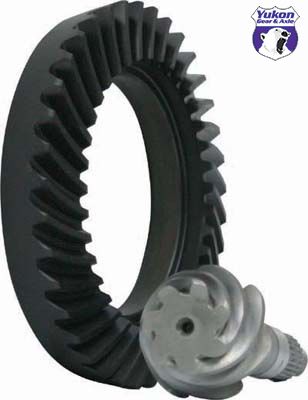 High performance Yukon Ring & Pinion Gear Set Toyota 7.5" Reverse rotation
High performance Yukon Ring & Pinion Gear Set


Fits reverse rotation Toyota 7.5"
7.500" ring gear diameter
23 spline pinion
10 ring gear bolts
**5.29, 4.56, 4.88 ratio
Yukon Ring and Pinion sets give you the confidence of knowing you're running gears designed for the harshest of conditions. Whether it's on the street, off-road, or at the track; Yukon ring and pinion sets deliver unrivaled performance and quality. Yukon uses the latest designs and manufacturing technologies to provide a quiet running gear that is strong and easy to set up.
Compatible Differentials
Toyota 7.5" Reverse Rotation Front SD19A



Compatible Make / Model
Toyota 4Runner (1995 - 2002)




Toyota Sequoia (2001 - 2007)




Toyota Tacoma (1995 - 2004)




Toyota Tundra (1995 - 2006)



Please note options above must be selected prior to checkout!
Reviews