3VZE 3.0 Rebuilt Engine (Complete)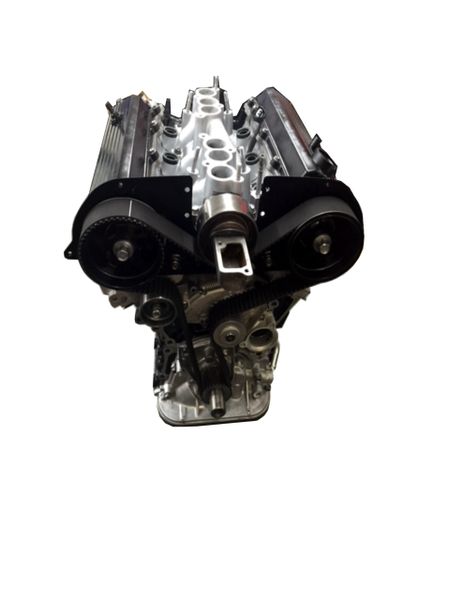 3VZE 3.0 Rebuilt Engine (Complete)
REBUILT 3VZE 3.0 ( 1989 - 1995 ) 
**Break-In Oil is required to run in your new engine for the first 500 miles, 
WE RECOMMEND YOU PURCHASE 6 QUARTS, 5 TO FILL AND 1 TO USE DURING THE BREAK-IN. 
please click here to purchase.
BLOCK IS SURFACED BORED AND HONED 

RECONDITIONED OEM CYLINDER HEAD 

OEM HEAD GASKETS




OEM FRONT AND REAR SEALS

NEW AISIN TIMING SET ( INSTALLED )

NEW AISIN OIL PUMP ( INSTALLED )




NEW AISIN WATER PUMP ( INSTALLED )

REGROUND CRANKSHAFT




RESIZED RODS WITH NEW OEM ROD BOLTS




RODS AND PISTONS ARE BALANCED 




HASTINGS RINGS




KING BEARINGS 

STEEL FREEZE PLUGS 

WATER AND OIL PLUGS ARE NEW

VALVES ARE ADJUSTED AND ENGINE IS SET AT TDC #1

VALVE COVERS (installed)

OIL PAN AND PICK UP TUBE (installed)

LOWER INTAKE IS INSTALLED

NEW OEM KNOCK SENSOR AND HARNESS (installed)

INSTALL GASKET SET
ENGINES ARE IN AN ENGINE BAG AND BANDED TO A SMALL ENGINE PALLET
This engine comes with a ONE Year Unlimited Mile Warranty. Please see our Terms Page for more details on the warranty.
A Engine Core charge of $500.00 is required, unless your are sending your core to us first. Please choose the core charge option when checking out.  choose the core charge option when checking out.
Please allow 14 days for your core charge to be returned after we receive your core and inspect it according to the core return guidelines.
Please see the Core & Warranty Policy page to see what qualifies as a rebuildable engine core.  You can bring your core when you pick up your engine or make arrangements to have it shipped to us. You are responsible for the shipping and transportation cost of your core. When shipping your core, it may cost as much as your core charge. In that case, we still encourage you to send some of the lighter weight items from your core to us. We can't make bad ass engines without cores, so we would rather have your core than your money. 
**** WE OFFER FLAT RATE SHIPPING OF $250.00 ON THIS ENGINE TO THE LOWER 48 STATES TO A COMMERCIAL ADDRESS WITH A FORKLIFT OR LOADING DOCK.  
IF YOU NEED YOUR ENGINE SHIPPED TO A RESIDENTIAL ADDRESS WITH LIFT GATE ASSISTANCE, IT WILL BE 
$120 MORE AND YOU WILL NEED TO CHOOSE "RESIDENTIAL WITH LIFT GATE" IN THE SHIPPING OPTIONS ABOVE, THIS WILL UPDATE YOUR TOTAL AT THE TOP OF THE SCREEN BUT DON'T FORGET THAT THE $250 FLAT RATE WILL STILL BE ADDED TO YOUR TOTAL AT CHECK OUT ****                    
THIS ITEM IS AVAILABLE FOR PICK UP, PLEASE CALL TO SCHEDULE.   
If you have any other questions about the engine or core, please feel free to call us at (209) 869-6821 or email info@209yota1.com

Reviews