3VZ Engine Rebuild Kit 1993-1995 4R PU T100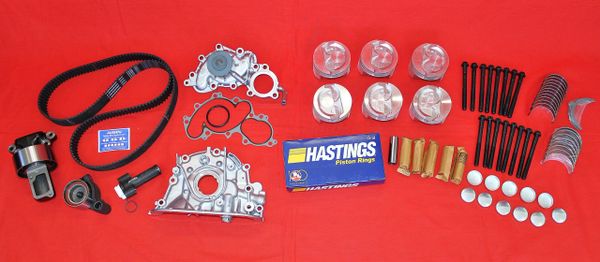 3VZ Engine Rebuild Kit 1993-1995 4R PU T100
3VZ Engine Rebuild Kit 


Fits 1993-1995 
1993-1995 Toyota 4Runner/Pickup
1993-1995 Toyota T100
If you are looking for the Ultimate Quality 3VZ rebuild kit, you're in the right place!
These parts are hand picked just for you.  All products in our kits are top quality just like the ones in our Engines. We use these parts daily in our Premium Performance Engines.

This 3VZ Engine Kit Includes:
OEM Aisin Timing Set W/ Water Pump, Hydraulic Tensioner, & Bearings
OEM Aisin Oil Pump
Head Bolts
Includes Freeze Plugs    
KING Main Bearings
KING Rod Bearings
KING Thrust Washers
Hastings Chromoly Rings
6 ITM Pistons with Pins and clips
Includes FULL Japanese ISHINO Complete Gasket Set
Please select Piston and Bearing size above prior to purchase.
If you are looking for a Knox Sensor or Harness, we have a package that may fit your needs. 
It comes with 1 Knox Sensor and a harness, click here to view details.

If there are some other items you would like to see in our kits, please email info@209yota1.com or call us (209) 869-6821.

Reviews