22RTE (Turbo) PREMIUM Engine Rebuild Kit 7.5:1 Compression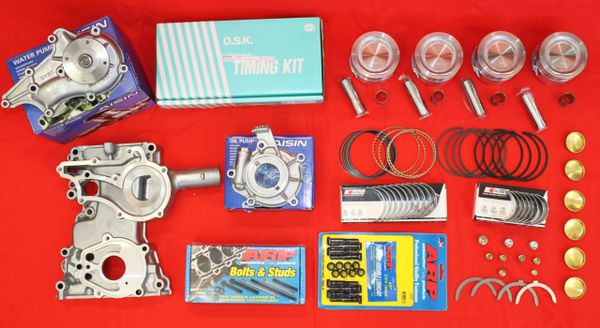 22RTE (Turbo) PREMIUM Engine Rebuild Kit 7.5:1 Compression
22RTE (Turbo) PREMIUM Rebuild Engine Kit 7.5:1 Compression

1985-1988
If you are looking for a 22RTE Turbo Rebuild kit, only vamped up, you're at the right spot!
These parts are hand picked just for you. All products in our kits are top quality just like the ones in our Engines. We use these parts daily in our Premium Performance Engines.

This 22RTE Turbo PREMIUM Engine Kit Includes:
Topline Pistons
Hastings Chromoly Rings OR Total Seal Gapless Rings
OEM Aisin Water Pump
OEM Aisin Oil Pump
Dual Row Conversion W/ OSK Timing w/ Steel Guide

Timing Cover
Head Bolts
ARP Head Studs
ARP Rod Studs
Brass Freeze Plugs
KING Bearings
Pin Bushings
Block & Crank Plugs
ISHINO/OEM Gasket Set including all CT20 gaskets
Please select Piston and Bearing size above prior to purchase.
You have the choice between Hastings Chromoly or Total Seal Gapless Rings, please choose the option best for you when adding to cart.
If there are some other items you would like to see in our kits, please email info@209toyota1.com or call us (209) 869-6821.
Reviews